Reservations and Publicity
Student Activities facilitates the reservation of outdoor space and general-purpose classrooms for student organizations. They also coordinate the reservation of publicity spaces, such as a-frames and banners, as well as approval of events in HornsLink.
Reservations
General-Purpose Classroom Reservations
Student organizations may reserve general-purpose classrooms by completing the room application form. Rooms are assigned on a first-come, first-served basis and all reservations are processed in the order that they were received.
For the fall semesters, room reservation requests may be submitted beginning at 10 a.m. on the first Tuesday in May. For the spring and summer semesters, room reservation requests may be submitted beginning at 10 a.m. on the first Tuesday in November. Although requests may be submitted on these dates, Student Activities will not be given access by the Registrar to schedule rooms for up to three months. Indoor reservations may require an indoor event consultation.
There are limitations on the amount of reservations that can be made at different points in the reservation schedule. Starting the first Tuesday in May for the fall semester, and the first Tuesday in November for spring and summer semesters, each student organization will be permitted to submit:
2 semester long requests totaling no more that 32 individual dates/rooms, and
2 individual reservation requests totaling no more that 6 individual dates/rooms
Reservations exceeding that limit will be denied. Additional and unlimited requests may be submitted starting the first day of classes during the semester being requested.
To change a room reservation (date, time, location, etc.), an officer must respond to the original room reservation confirmation or email the Facilities Coordinator and include all the information regarding their request including name of student organization, date / time / location of reservation, and the reservation confirmation number. Once the request is processed, an updated room reservation confirmation will be emailed to the organization. Do not fill out a new room reservation application to request changes.
Reserving Outdoor Space on Campus
Student organizations obtain approval to reserve outdoor space on campus through Student Activities. An officer from a student organization must complete the Outdoor Space Request (RSO), available through the University Unions event space reservations system. Additionally, an officer must participate in an outdoor event consultation with a Student Activities staff member before the reservation request will be confirmed.
Event Work Orders
Student organizations may request an event work order for tables, chairs, trash receptacles, stages and other resources they need for an event on campus. To create a work order, an officer is required to meet with a Student Activities staff member at least 14 days prior to the event. To schedule an appointment, contact the Student Organization Center (SOC) at 512-471-3065. Additional information about work order requests is available on the Work Order Request FAQ's page.
Event Planning Consultations
Student organizations enjoy the privilege of using the University to host events. Reserving outdoor space on campus requires an outdoor event consultation with a Student Activities staff member. Some indoor space reservations may also require an event consultation. During their consultations, Student Activities staff members draw upon their knowledge of the Institutional Rules, university policies and best practices in event planning. Event consultations can lead to referrals to other departments on campus. Possible referrals include, but are not limited to:
University of Texas Police Department for event security
Parking and Transportation Services for parking permits
Environmental Health and Safety for food distribution permits
Fire Prevention Services for approval for use of open flames
Tabling
Student organizations can table to display literature, distribute information and for other forms of expression.
Any outdoor location (except for the Main Mall) can be appropriate for tables, provided that the tables do not disrupt other University functions or interfere with pedestrian or vehicular traffic. Consult with Student Activities for ideas and information about appropriate locations to place tables on campus.
Student organizations can supply their own tables or use tables provided by the University. University tables are available for use in the West Mall and Gregory Gym Plaza. These tables may be checked out from the Flawn Academic Center (FAC) and Gregory Gym, respectively.
Jester Concourse Tables
To apply for Jester Table space, an authorized representative must complete a University Unions Event Space Reservation. Space is limited to seven locations, which are numbered (1-7) on the walls of Jester.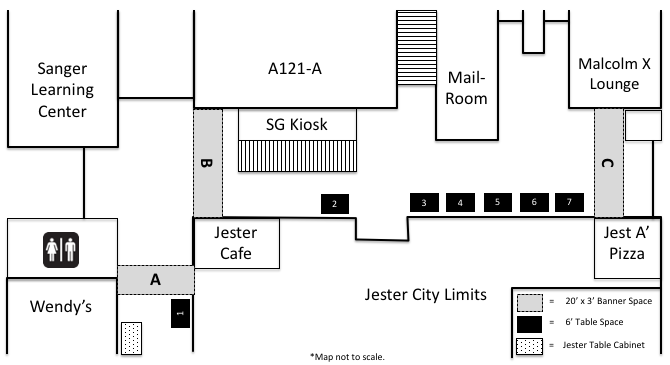 Publicity
Literature
Student organizations have the ability to distribute literature on campus. Literature can be used to advertise the organization, share information or promote an idea. Student organizations may sell, distribute, or display literature on campus in accordance with the following guidelines:
The literature does not promote a for-profit business, organization, agency, or national association.
The literature is not distributed by hawking, shouting, or accosting individuals.
Literature that is dropped on the ground in the area where it was distributed must be picked up by the student organization.
Literature is defined as any printed material that is produced in multiple copies for distribution to potential readers.
A-Frame Reservations
An a-frame is a temporary structure built and used by student organizations to advertise events and other information about their organization. A-frames are generally made of 2X4's and pieces of plywood. A-frames may not be larger than 5' x 5'.
A student organization must submit an A-Frame Reservation Request and have that request confirmed by Student Activities before placing an A-frame on campus. The A-frame locations can be found on the West Mall Map (pdf).
Rules for A-Frame Space Reservations:
A-frames must be put out by the student organization no more than 12 hours before the start of their reservation and removed no later than 12 hours after their reservation ends.
If an a-frame is not removed at the appropriate time, it will be removed and a bar will be placed on the student organization.
For the fall semesters, a-frame reservation requests may be submitted beginning at 10 a.m. on the first Tuesday in May. For the spring and summer semester, requests may be submitted beginning at 10 a.m. on the first Tuesday in November.
Banner Reservations
Student Activities reserves the West Mall and Jester banner spaces for student organizations on a Monday to Sunday basis. To apply for banner space, an authorized representative must complete the Banner Space Request.
Reservations are assigned according to a priority system, which includes the date of the request, size and longevity of the event, and availability of space. For the fall semester, banner space reservation requests may be submitted beginning at 10 a.m. on the first Tuesday in May. For the spring and summer semesters, requests may be submitted beginning at 10 a.m. on the first Tuesday in November.
Once your organization is assigned a banner space, you will be notified via email. Banners must be dropped off at the SOC by Noon the Thursday before the banner is to be hung. Banners must include the appropriate length of rope already attached in order to be accepted. The length of rope needed depends upon the banner size. Details about rope are available in the Banner Space Request.
If the student organization has confirmed banner space in Jester, the group is able to set up the banner on their own. Organizations are responsible for removing their banner on the last day of the reservation. Student Activities is not responsible for any lost, damaged or stolen banners.
Banners Must:
Not exceed: 20' x 3' in size (West Mall banner space is 40 feet wide)
Have slits in banner for wind resistance
Have grommets for rope
Student Organizations must not have had the same banner space the previous week. No consecutive requests for the same space will be approved.
Banner space is also available at the following location:
The McCombs School of Business has banner space on the bridge over 21st Street, between the McCombs School of Business and the UTC. To hang a banner in this location, go to the Dean's Office at GSB 2.102 (512-471-5921) to fill out an application.
Flyers
Flyers may be distributed as literature or posted with prior approval inside of buildings. Indoor location policies and restrictions occur building by building. Contact the specific building manager prior to posting flyers in any interior area.