The Sgt. Tyrell Seth Williams, USMC Endowed Scholarship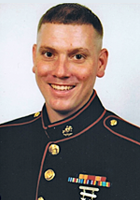 Tyrell "Ty" Williams, a U.S. Marine Corps Veteran with 3 tours of combat, moved to Austin in 2007 the week of his 31st birthday and six weeks after returning home from his final tour. He was excited to follow his dreams. As a passionate Longhorn fan and lover of Austin, Ty couldn't wait to attend The University of Texas to study psychology.
Tragically, and a mere six weeks after his move to Austin, as Ty was walking home one evening he was struck and killed by a hit-and-run driver. The Sgt. Tyrell Seth Williams, USMC Endowed Scholarship was created by his mother, Dayton Williams, on behalf of all who knew and loved Ty and as a legacy to honor his exuberant and selfless life. Scholarship recipients are student veterans with demonstrated financial need who are selected annually to "sit in Ty's place." To be considered for future selection, please contact utveterans@austin.utexas.edu.
2018 Recipient, Jarvis L. Brewer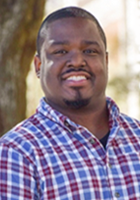 When I first received my acceptance to The University of Texas at Austin, I was overjoyed to be given the opportunity to be part of a school I have loved since childhood. No member of my family had ever attended this University, but we have always been dedicated Longhorns at heart. I am also a single father to a beautiful daughter, so I am hoping to use this opportunity to provide her as many opportunities as possible.
I used this incredible opportunity at UT, Austin to get as involved as possible. As a student majoring in Economics, I joined the Economics Peer Mentor Program (EPMP), which connects for networking, social functions, and assistance with coursework and life beyond the 40 Acres. In addition, I helped re-establish a fraternity on campus, Beta Theta Pi. As the Chapter's Vice President, I played a major part in helping the chapter go from zero active members in 2015 to over 100 active members today. I have attended, and continue to participate in leadership seminars held by both the general fraternity and outside organizations.
Additionally, the Student Veterans Association and Student Veteran Services in the Office of the Dean of Students have made drastic, positive changes in my life during my time at UT. I have made it a point to attend as many functions as possible to connect with my fellow veterans. Although our respective branches and prior careers may be vastly different, we with always share common ground through our military service. I believe this connection with my brothers and sisters in uniform was extremely helpful when making the transition from active duty to the classroom.
Thank you again for this generous gift. I am so incredibly humbled to be representing Ty as I walk across the stage and graduate. As his Navy brother, I am honored to represent him at The University of Texas at Austin and beyond. His sacrifice will never be forgotten.