New Member Orientation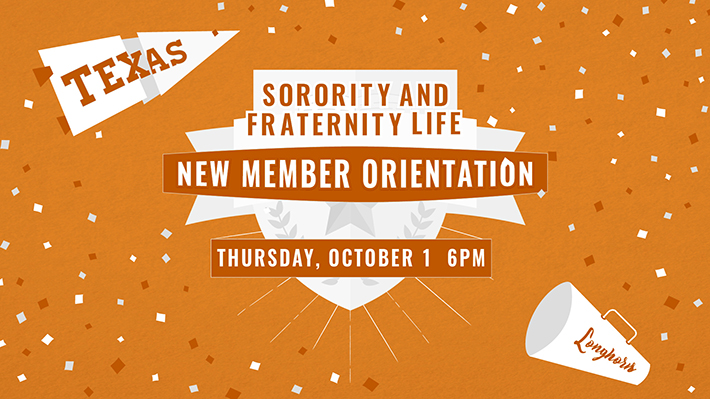 At new member orientation, the newest members of your chapter will learn about what it means to be a Texas Greek, including an overview of our council communities, and hear from our guest speaker Lawrence Ross.
Lawrence Ross will be delivering his Blackballed Lecture on Campus Racism. Lawrence Ross attended the University of California, Berkeley, where he was initiated into Alpha Phi Alpha Fraternity, Inc. in 1985, and the University of California, Los Angeles, where he earned a bachelor's degree in History. Ross also has a Master of Fine Arts (MFA) degree in screenwriting from the UCLA School of Theater, Film, and Television. Lawrence has written seven books, including The Divine Nine: The History of African American Fraternities and Sororities and Blackballed: The Black & White Politics of Race on America's Campuses. Since Blackballed was published in 2016, Lawrence has lectured at over 200 colleges and universities on the issue of campus racism.
This year, SFL new member orientation will be held virtually on Thursday, October 1st from 6-8pm. All new members attending the program, must register in advance to get access to the Zoom webinar. We encourage all attendees to register in advance to ensure they have the webinar link accessible.
Attendance Expectations
This event is mandatory for all new members from spring and fall 2020 in order for your chapter to receive good standing credit. If your new members did not attend new member orientation last fall, they are also invited to attend. It is the responsibility of the New Member Educator and Chapter President to communicate time and registration information with your new members.
Accommodations and Questions
Any students in need of accommodations (e.g. closed captioning, sign language interpretation, etc.) to best engage in this webinar should contact Jenny Walker at Jennifer.walker@austin.utexas.edu.
All general questions can be directed to Jenny Walker (jennifer.walker@austin.utexas.edu) or your chapters applicable SFL council advisor.