Sorority and Fraternity Life
Welcome to Sorority and Fraternity Life (SFL) at UT Austin! There are hundreds of opportunities on the Forty Acres. One such opportunity is becoming involved in a sorority or fraternity. SFL welcomes new members, supports aspiring leaders, and advises council leaders in the community. Our mission is to shape a values-based sorority and fraternity experience. We cultivate educational and leadership development, in collaboration with individuals and organizations, to foster a culturally conscious, safe, and responsible community contributing to a positive sisterhood, brotherhood, and siblinghood.
We look forward to answering your possible questions and providing resources related to sorority and fraternity life at UT Austin.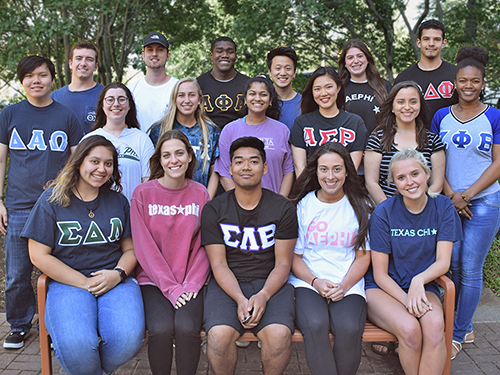 A Note to PACE Students
Students participating in the Pathway to Admission through Co-Enrollment, also known as PACE, will have access to all of the benefits and privileges of a full time student at UT Austin. Participating in extracurricular activities, such as joining a sorority and fraternity, is encouraged and will enhance your experience in college.
It is important to note that our sorority and fraternity partners each have individual membership requirements. Membership decisions are the sole responsibility of the organization. We would encourage you to consult with the national organizations should you have questions about eligibility requirements.
Contact Us
Sorority and Fraternity Life
Office of the Dean of Students
Student Services Building 4.400
100 West Dean Keeton Street
Austin, TX 78712
sfl@austin.utexas.edu
Phone:
512-471-9700
Fax:
512-471-6273