The Sgt. Tyrell Seth Williams, USMC Endowed Scholarship
Scholarship amount: $2,000
Number awarded: 1
Open to: All undergraduate veteran students
Application Period: October 1, 2023, 8 a.m. - October 31, 2023, 5 p.m.
Eligibility requirements
Must be an honorably discharged veteran from an active-duty component of the U.S. Armed Forces.
Applicant must be making satisfactory academic progress (SAP), as defined by the Office of Scholarships and Financial Aid, towards a degree, or have an approved SAP appeal.
Candidate must have a completed FAFSA® Form for the current academic year on file with UT Austin's Office of Scholarships and Financial Aid.
Applicant must have demonstrated financial need
The Story Behind the Scholarship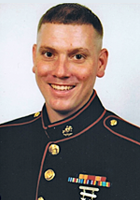 Tyrell "Ty" Williams, a U.S. Marine Corps Veteran with 3 tours of combat, moved to Austin in 2007 the week of his 31st birthday and six weeks after returning home from his final tour. He was excited to follow his dreams. As a passionate Longhorn fan and lover of Austin, Ty couldn't wait to attend The University of Texas at Austin to study psychology.
Tragically, and a mere six weeks after his move to Austin, as Ty was walking home one evening, he was struck and killed by a hit-and-run driver. As a legacy to honor his exuberant and selfless life, The Sgt. Tyrell Seth Williams, USMC Endowed Scholarship was created by his mother, Dayton Williams, on behalf of his family and all who knew and loved Ty.
Scholarship recipients are student veterans with demonstrated financial need who are selected annually to "sit in Ty's place."