Dean's Dozen Award - 2021 Award Winners
Meet these truly outstanding Longhorns whose positive contributions to our community and dedication to enhancing the student experience have earned them a spot among this year's Dean's Dozen.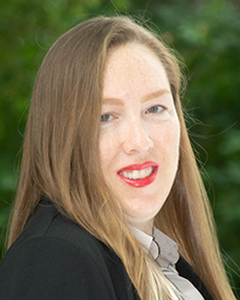 Christina Baze is graduating with a Ph.D. in STEM Education from the College of Education. She has been a dedicated student leader on campus through her and left a significant impact on the graduate student community during her term as Graduate Student Assembly President in 2019-2020 and Internal Affairs Director in 2020-2021. She worked closely with campus administrators to advocate for the needs of graduate students on campus, including policies to better accommodate student parents, graduate housing, and graduate student insurance. During her leadership, she took steps to address representation and diversity within GSA, helped pass legislation to create a Black Graduate Student Agency, and promoted graduate student needs through Student Advocates for Graduate Education. Outside of her transformational work with GSA, Christina also served as part of the Election Supervisory Board and Election Reform Committee to enhance the election experience for students.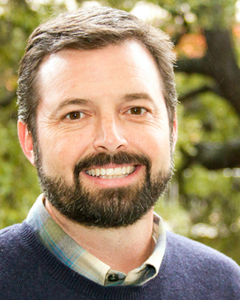 Christopher Burnett, graduating with a Ph.D. in Educational Leadership and Policy, has provided indelible support to the Vice President for Student Affairs office during his time as a graduate student. His ability to translate student concerns and feedback into tangible suggestions to help better the student experience has proved to be invaluable. Christopher's research into COVID-19 policies and practices from other institutions, as well as his consistent benchmarking against comparative universities have helped ensure the Division of Student Affairs stays ahead of the pack and remains a leader in innovative programming and response.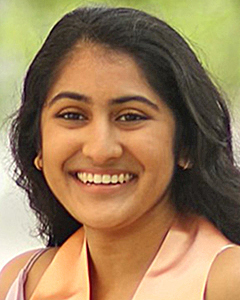 Anjali Dalwadi, graduating with a degree in Management Information Systems from the McCombs School of Business, has worked as an integral member of the Dean's Squad Public Health Ambassador Team. She has been deeply committed to contributing to the health and safety of her fellow students, and assumed the lead in assessment and marketing efforts to gain more exposure for Dean's Squad efforts. Her determination and resilience in her leadership role have made a significant impact for the Public Health Ambassador Team during the COVID-19 pandemic.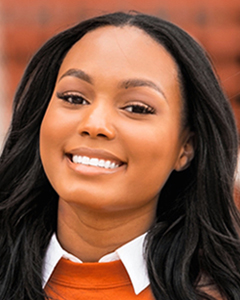 Shelby Griffin, graduating with a degree in Public Health, has served as a Student Leadership Board (SLB) member assisting with the day-to-day operations of the UT Outpost food pantry operated by Student Emergency Services. She is said to be an independent and responsible member of the SLB team, using her knowledge and talents to create procedures that have streamlined the team's communication and simplified the food inventory management system. Shelby has been instrumental in crafting UT Outpost events that raise awareness and lower stigma around campus food insecurity. Described as a "rock star," Shelby has consistently provided great insight as to how UT Outpost can positively impact her fellow Longhorns.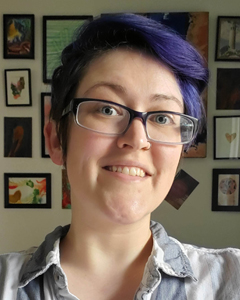 Eboneigh Harris, graduating with a Ph.D. in Educational Psychology has played an impactful role in assessment for the Vice President of Student Affairs office by making sure the Division of Student Affairs is compliant with accreditation requirements and assessment goals. Using their skills in analysis and data collection, Eboneigh has done phenomenal work in helping the Division determine if programming is successfully assisting students and meeting needs. They also cofounded COEmmunity Connect in the College of Education, a mentoring program to ensure student-to-student connection between incoming and returning graduate students in the department.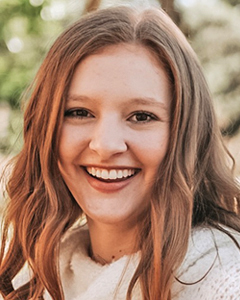 Lindsey Hoyer, graduating with a degree in Accounting from the Canfield Business Honors Program, has been described as an exceptional example of what it means to be a Longhorn leader and Panhellenic Woman. During her term as president of the University Panhellenic Council, Lindsey led the council in transitioning the extensive 4,000+ member recruitment process to a virtual platform. She lead the Panhellenic community with compassion and courage as they navigated the COVID-19 pandemic and its disruptions. The innovations she helped spearhead are considered best practices across the country. Lindsey is said to approach leadership from a place of respect and earned esteem from Panhellenic community leaders by advocating for student needs at the council and university level.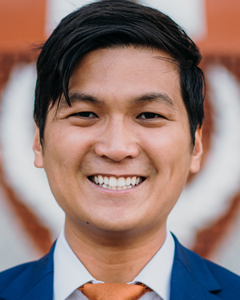 Winston Hung is graduating with a degree in Chemical Engineering and has served as Student Body Vice President during the 2020-2021 academic year. Throughout his term, Winston played a crucial role in communicating student needs and providing feedback about the institution's pandemic plans, along with organizing a weekly taskforce to provide student input for reopening campus. Winston also chaired the Student Services Budget Committee, leading the group in reviewing departmental budget requests for funding and mentioned as one of the most organized chairs to date. He also played a pivotal role in changing the application process to allow departments to apply for immediate funding to provide COVID-19 support for students. Additionally, Winston helped encourage students to take advantage of COVID testing on campus, worked with students to advocate getting menstrual products added to restrooms across campus, and helped assist students in need during Winter Storm Uri.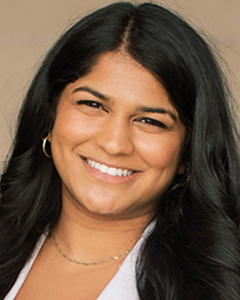 Anagha Kikkeri, a Liberal Arts Honors student graduating with a degree in Government, has served as Student Body President during the 2020-2021 academic year. Anagha helped spearhead a fundraising campaign competition with Texas A&M University to raise money for students affected by Winter Storm Uri. She was instrumental in recommending improvements to the Texas Union and other campus locations to better meet students' need for physical spaces to be more open and modern. Anagha has also worked as a contributing member of both the ReOpen Campus Student Feedback Committee and the Eyes of Texas History Committee, representing student concerns and giving them a voice.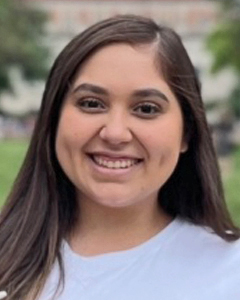 Michelle Lopez is graduating with a B.S. in Corporate Communication from the Moody College of Communication. An active member of the Latino Pan-Hellenic Council (LPHC), Michelle is said to be a constant source of joy, innovation, and commitment in the Sorority and Fraternity Life Office. During Michelle's tenure as Vice President of LPHC, she was a strong advocate for bettering the Latinx student experience at UT Austin and keeping the experience of marginalized students at the center of her work. Additionally, as a Safety Education Peer Educator, she has pushed her peers to think critically about the impact of their decisions, served on numerous hazing prevention student panels, and was a mentor to her team members as they quickly adapted to providing virtual workshops.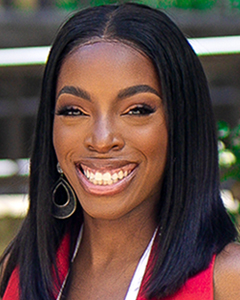 Brianna McBride is graduating from the Moody College of Communication with a B.S. in Communication & Leadership and the College of Liberal Arts with a B.A. in Government. As co-director of the Black Presidents Leadership Council, Brianna played a fundamental role in the creation and organization of demands submitted to university administration on behalf of the Black student community. She has written policy proposals and consistently met with university administration to push for positive change and help make campus a more diverse and welcoming place for students. Brianna is passionate about mentoring students of color and has promoted a fair and equitable campus through her work with the African American Culture Committee, Big XII Council on Black Student Government, New Black Student Weekend co-chair, and student ambassador for the Texas Tour Guides Association.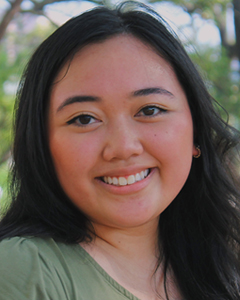 Alcess Nonot is graduating with degrees in Biology and Human Development & Family Sciences (Honors). Alcess has served students on campus in multiple roles during her time on the Forty Acres, most notably as President of the Senate of College Councils during the 2020-2021 academic year. As president, she worked with university administration to update academic flexibility guidance due to the pandemic and winter storm, along with working tirelessly to get students information and resources. As an active member of the ReOpen Campus Student Feedback Committee, Alcess assisted with setting up a survey for students to share concerns regarding revised course syllabi as a result of the pandemic. She also authored a bill advocating for the renaming of the former RLM building, supported a University Grading System, and served on the UT Provost Search Committee.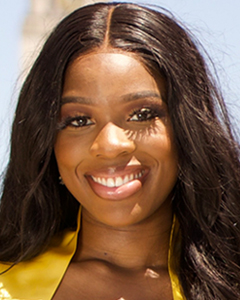 Tuka Uzor, graduating with a degree in Public Health, was one of the first Student Leadership Board (SLB) members for UT Outpost and has shared a passion for supporting her fellow Longhorns. She assisted with recruitment and onboarding of new volunteers for the campus food pantry and when the COVID-19 pandemic impacted UT Outpost's ability to host volunteers, Tuka pivoted and assisted with Career Closet operations alongside of day-to-day food pantry operations. She has worked tirelessly over the years to make sure students receive a warm and uplifting experience whenever visiting UT Outpost, as well as helping to spread awareness of the program while working to destigmatize the perception around both a campus food pantry and career closet.