Texas Asian Pan-Hellenic Council (TAPC) Recruitment
Texas Asian Pan-Hellenic Council recruitment takes place in both the fall and spring semesters. During the second week of each long semester, TAPC organizations distribute fliers on the West mall and in Jester residence hall. The rush period, which lasts the entire week, is intended to simulate the experience of being a member of a TAPC organization, and may include a service project, mixer and sisterhood or brotherhood event. To receive a bid, potential new members must submit applications and be interviewed.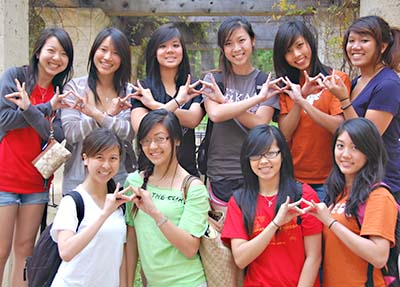 The new member process lasts 8-12 weeks and includes a formal presentation to family, friends, etc., as well as a special ceremony for new recruits to become initiated members of the chapter. This ceremony typically marks the end of the new member process.
Other Things You Should Know
The Texas Asian Pan-Hellenic Council is committed to serving the community and sponsors one service project per semester. Recent projects include working with Big Brothers and Big Sisters and an annual philanthropy week.
In addition to council-sponsored projects, each organization devotes one week to philanthropy. Visit the chapter pages for each organization to learn more about specific philanthropic efforts.