The Texas Leadership Summit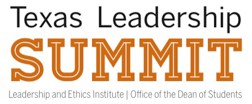 The Texas Leadership Summit is a leadership development conference open to any student organization members at The University of Texas at Austin. The Summit provides a unique space for student leaders to develop and refine leadership competencies through engagement in experiential workshops, breakout sessions, and networking. This diverse community of leaders affords each participant the opportunity to build relationships and identify areas of collaboration to positively impact The Forty Acres.
Goals of the Texas Leadership Summit
Provide students with concrete ideas, concepts, skills, and tools related to leadership development.
Empower students with the personal tools and leadership skills to implement in their academic lives, student organizations, and future careers.
Motivate students to take their new knowledge back to their organizations and social networks.
Texas Leadership Summit 2019
February 9, 2019 from 10am-4pm, location TBD.
Registration is open from November 1st-30th, 2018 via Hornslink.
Registration fee is $10 to secure your spot (which will be donated to the Student Emergency Fund).
Space is limited! Register early!