The Sorority and Fraternity Life Awards
Presented by Sorority and Fraternity Life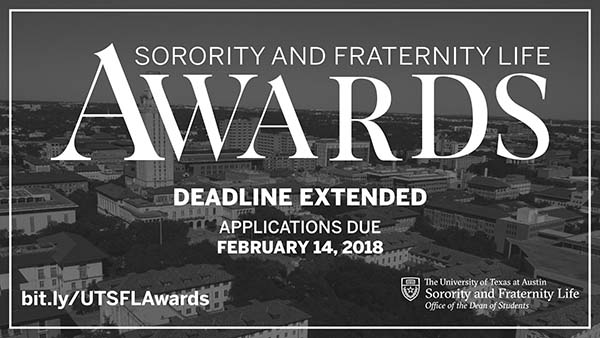 The Sorority and Fraternity Life Awards are designed to recognize outstanding Greek individuals, chapters, and advisors. The awards celebrate the achievements of our Greek community with award categories in service, scholastic achievement, community building, and leadership.
Important Application Instructions
Applications for the 2019 Sorority and Fraternity Life Awards will open November 2018
Awards are for programs and accomplishments that have taken place between January 2018 and December 2018. Programs outside this time period will not be considered.
Individual students may nominate themselves or other students for Individual Awards.
Please ensure that the names of both applicants and organizations are spelled correctly. The information provided is what will be printed on the winner's award.
Quality of the application (including writing and proper use of grammar) as well as the level of details and information provided will be crucial components in rating the application. Therefore it is advised that the application is thorough and well written.
The supporting artifacts are also a crucial component of the award evaluation process. Supporting artifacts can include photos, flyers, planning documents, social media promotion, or any other additional file that may support your application.
All of the questions must be answered COMPLETELY.
Award Categories and Criteria
Council Awards
These awards recognize the council that has demonstrated commitment to all the following sorority and fraternity life values:
Outstanding Service or Philanthropy
Community Building
Outstanding Leadership
Commitment to Risk Management
Outstanding Public Relations
Council of the Year Award
---
Chapter Awards - 2018 Recipients
Chapter Award applications are evaluated based on membership size in order to recognize more organizations doing excellent work in our community. Each award can be awarded to a chapter from each category. Categories are; large (over 100 members), medium (100-30 members), and small (under 30 members).
These awards recognize individual chapters demonstrating excellence in the following ways:
Outstanding Service and Philanthropy

Alpha Kappa Alpha Sorority incorporated
Alpha Kappa Delta Phi Sorority, Inc.
Alpha Delta Pi

Scholastic Achievement
Community Building

Alpha Kappa Alpha Sorority incorporated
Alpha Delta Pi

Outstanding Leadership
Outstanding New Member Program

Sigma Lambda Alpha Sorority, Inc.
Delta Upsilon
Delta Gamma

Commitment to Risk Management
Outstanding Public Relations
Chapter of the Year
---
Individual Awards - 2018 Recipients
Each award can be given to both a fraternity and sorority member. Applications can be filled out by the individual themselves or by another person on their behalf.
These awards recognize individuals in the sorority and fraternity community that exemplify a special commitment to the following values:
Outstanding Service and Philanthropy

Emily Broaddus, Alpha Delta Pi
Martin Scaria, Beta Theta Pi

Scholastic Achievement

Jasmine Liu-Zarzuela, alpha Kappa Delta Phi Sorority, Inc.
Trey Cinclair, Beta Theta Pi

Community Building

Molly Curington, Alpha Delta Pi

Outstanding Leadership Award

Ginnifer Joe, Delta Gamma
Martin Scaria, Beta Theta Pi

Outstanding New Member

Jennifer Qu, alpha Kappa Delta Phi Sorority, Inc.
Matias Fragoso, Sigma Lambda Beta International Fraternity, Inc.

Outstanding Chapter President

Madison Huerta, Alpha Delta Pi
Andrew Boyd, Sigma Phi Epsilon

Member of the Year
Outstanding Volunteer

Alpha Delta Pi
Sigma Phi Epsilon