University Panhellenic Council (UPC) Recruitment
How to Join
Panhellenic Formal Recruitment occurs the week before classes begin each fall semester. After registering online in the summer and working on your recommendation letters, you will have the opportunity to attend events at each of the Panhellenic chapter houses. Throughout the week, by a process of mutual selection, both chapters and potential new members will narrow their choices. While you might not get your top choice, all of our UT Austin chapters have something to offer and potential new members are strongly encouraged to keep an open mind. A majority of women obtain membership through this process; however qualifying chapters may also have opportunities to join outside of this time period and throughout the year.
Who is eligible for recruitment?
A woman is eligible to participate in recruitment and join a sorority if:
She is enrolled at The University of Texas at Austin as a full-time student. A full-time student is defined as one who is taking twelve credit hours per semester, excluding correspondence courses and courses at other universities.
She must not be an initiated member of any National Panhellenic Conference sorority.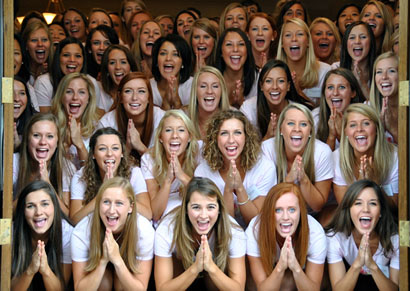 Online recruitment registration begins Monday, May 20, 2013 and concludes at 5 p.m. on Monday, August 12, 2013. Paper applications will not be accepted. You will be asked to upload a photo and may choose to pay your registration fee online. If you prefer, you may also mail in your registration fee. If you choose this option, your check would follow the fee timeline described below. Please make your check or money order payable to University Panhellenic Council and mail to:
The University Panhellenic Council
Attn: UPC President
100 West Dean Keeton, A5800
Austin, Texas 78712-0175
Registration Fee Timeline:
$85 if paid online by 11:59 p.m. or postmarked by July 21, 2013
$100 if paid online or postmarked after July 21, 2013
Registration for University Panhellenic Council Recruitment 2012 will conclude Monday, August 12, 2013 at 5 p.m.
---
If you are unable to view the Flash file above download Adobe Flash player.