Sorority and Fraternity Life 360 Connections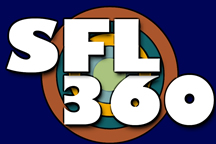 With more than 7,000 classmates, it can be a little overwhelming trying to find a unique group on campus that helps bring your UT experience full circle. That's why UT Austin has developed Your 360 Connection — a unique full circle experience that's just for you. By participating in the SFL 360 Connection, you will immediately find a community of support, guidance, mentorship and friendship amongst fellow new members of the Sorority and Fraternity Community.
SFL 360 Connections is an exciting new initiative that will provide a variety of opportunities for 50 students to engage others outside of their own chapter, and develop themselves as leaders within sororities and fraternities here at the University of Texas at Austin. New members of sororities and fraternities will explore the core values of being a member of our community: leadership development, academic excellence, service/philanthropy and community building. You will also learn about academic integrity and UT's spirit and traditions.
SFL 360 Connections will meet on Mondays from 4pm-4:45pm each week starting September 9th. We will be accepting applications through September 16, 2013 and you will receive confirmation of your participation from SFL staff.
Apply here: https://utexas.collegiatelink.net/form/start/23925