This Week on the West Mall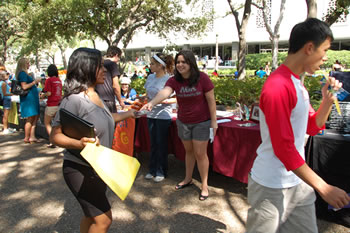 UT Austin's West Mall has historically been one of the most popular midday student gathering spaces. The tree-lined walkways stretch from the tower to the Texas Union, and student organizations often use the space to table, announce events and recruit new members.
Student organizations may reserve the West Mall Rally Space by visiting the Reserving Outdoor Space on Campus section of our site.
The following organizations have reserved the West Mall Rally Space this week:
| Date | Event |
| --- | --- |
| Monday, May 20 | University Events |
| Tuesday, May 21 | No Events Scheduled |
| Wednesday, May 22 | No Events Scheduled |
| Thursday, May 23 | No Events Scheduled |
| Friday, May 24 | No Events Scheduled |
Special Events on Campus (PDF)
---
If you are unable to open the PDF above download Adobe Acrobat Reader