Student Organization Center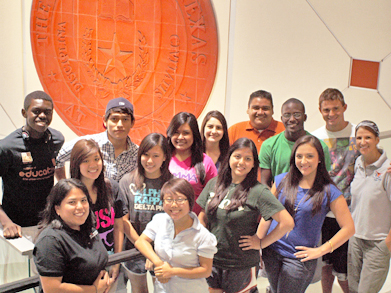 Hours of Operation
Monday–Friday: 8 a.m.–8 p.m.
Saturday: 12–5 p.m.
Sunday: 12–8 p.m.
Summer Hours
Monday–Friday: 8 a.m.–5 p.m.
Closed Saturdays and Sundays
---
Located directly across from the elevators on the fourth floor of the Student Services Building (SSB), the Student Organization Center (SOC) provides a centrally located workspace for registered student organizations, near Student Activities within the Office of the Dean of Students. Registered student organizations may lease office, cubicle and locker space in the SOC (available by application in the spring). SOC staff provide information, assist with paperwork and answer questions.
Students wishing to start a new registered student organization or re-register a student organization may do so at the SOC. The SOC also offers the following resources to UT Austin's registered student organizations:
Mailboxes
Registered student organizations / sponsored student organizations can reserve a mailbox in the SOC. These mailboxes are free of charge and can be used on a continual basis as long as the organization remains active and in good standing. If an organization is inactive for two consecutive semesters, their mailbox will be reassigned to another group. The SOC recommends that organizations check their mailboxes at least once a week.
Mailbox Stuffing
For a $15 fee, Student Organization Center staff will stuff a tri-fold flyer produced by your registered student organization into each of the active student organizations mailboxes. To request this service, submit the Mailbox Stuffing online application. Mailbox stuffing is also available to the following entities for the rates indicated:
RSO / SSO ($15)
UT Departments ($25)
Off-campus businesses or organizations ($75)
Art Supplies
Free art materials are available for use in the SOC by members of registered student organizations: white and other multi color butcher paper, paint, brushes, paint cups, marker sets, large markers, rulers, pencils and erasers.
SOC Office and Storage Space
Registered student organizations / sponsored student organizations may also lease offices and storage space in the SOC, making it possible for them to work or store belongings at a central location near Student Activities within the Office of the Dean of Students.
SOC office and storage spaces are accessible during normal SOC business hours.
The SOC space application process occurs during the spring semester, in April. The Student Organization Center Application and Advisory Committee (SOCAAC), allocates space based on a registered student organization's demonstrated need for space in the SOC. For an SOC Office Space Application, please visit the SOC during regular business hours. The application for SOC storage space can be found online at https://www.utexas.edu/student/dos/sa/socstorage.php.
SOC Office Rates
| | | |
| --- | --- | --- |
| Office Space | Large Offices | Small Offices |
| Number Available | 3 | 9 |
| Size | 13' 6" x 10' 3" | 9' 4" x 9' 3" |
| Price | $1000* | $500 |
SOC Storage Space Rates
SOC Lockers
Locker Suite
Side Lockers
Middle Lockers
End Lockers
Seat Storage
Quantity Available
12
48
12
4
20
Dimensions
4(30" x 18" x 65")
1(42" x 18" x 65")
(leased in sets of 5)
2 (30" x 18" x 65")
(leased in sets of 2)
42" x 18" x 65"
36" x 18" x 65"
30" x 18"
Price
$250/year
$100/year
$70/year
$60/year
$30/year
West Mall Rally Space Sound Equipment
To access the West Mall Rally Space sound equipment, you must already have an approved West Mall Rally Space outdoor space reservation. The sound equipment may ONLY be used in the West Mall Rally Space location. An authorized representative of your organization must check out the key from the Student Organization Center (SOC) on the day of the reservation, pay the $10 fee and leave their UT ID card. After your event, please be sure to lock the sound system securely in the cabinet in the Flawn Academic Center (FAC) lobby. Once the system is secured in the FAC lobby cabinet, return the key to the SOC after the event. Another RSO might need the equipment in the evening or next morning.
Centralized Application Drop-Off
If your organization accepts membership applications, the Student Organization Center (SOC) can serve as your centralized application drop-off location. This service can reduce the stress of collecting applications and managing deadlines!
To use this service, complete the Centralized Application Drop-off process and bring it to the SOC. This application provides the SOC with information about your organization's deadlines and the representative responsible for the application process.
Please note, the SOC cannot accept any money that may accompany an application.