Raising the Bar - Legal Services for Students
By Laura Ohata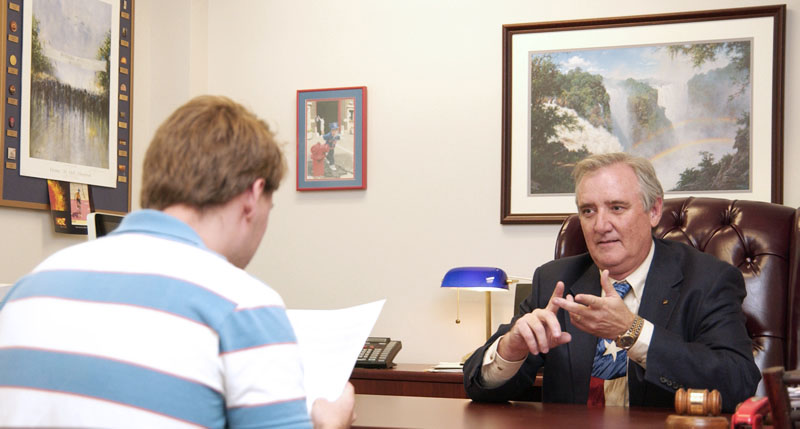 It happens every spring. Four students apply to prelease a condo just north of campus and pay the landlord an advance of $1,000 each on the security deposit. A month later, one of the students finds a cheaper apartment and changes his mind about the original deal. The remaining applicants ask the landlord to refund the deposit advance, but he refuses to return the $4,000 citing liquidated damages. Fortunately, students at The University of Texas at Austin have access to free legal advice to help them get their advance back.
If students find themselves in trouble, Legal Services for Students (LSS) is available to help. As a part of the Office of the Dean of Students, LSS maintains a staff of three attorneys who handle a wide range of legal matters including landlord-tenant disputes, alcohol-related offenses, car wrecks, contracts, employment, and consumer law. The office also notarizes documents and helps establish a will or power of attorney. "Our office allows students to keep their finances and their energies focused on staying in school," said Raymond Schiflett, director of Legal Services for Students. "Because 80-85 percent of our clients have a very low income, they don't have the money to hire an attorney to defend them or protect them in a legal situation."
Tom Butler, assistant director of LSS, said that in the case of the condo application, if the apartment owner keeps the deposit before a lease is signed, it could be considered unjust enrichment because he still has time to lease the property to someone else. "Often, we can get their money back," said Butler. "A thousand dollars is not much to many people but it's a lot of money to a college student." The attorneys at LSS believe that recovering security deposit money has helped students stay in school.
In addition to advocating for students, LSS attorneys guide them through the legal system and teach them about the process along the way. Far from home and without parental supervision for the first time in their lives, many first-year students get into trouble through overindulgence.
Schiflett said that it is in the university's best interest to help clients and make sure that they receive fair treatment under the law. However, he also views the educational component as critical to the role of LSS. "Part of our efforts is to let them know what the risks are when they overindulge or do things that are not well thought out that may have legal consequences," said Schiflett. "If you are a freshman thinking, 'Hey, I've just received a Minor in Possession of Alcohol ticket. What do I do now?' it would be easy for me to say, 'Okay, we'll help you with that,' but you don't learn much that way." Schiflett talks with students about why they got into trouble and how they can avoid it in the future. "We obviously can't change what they have already done. What we can do is maybe change future behavioral patterns. If you, as a student, went to see an outside law firm, understandably they may not be interested in the educational component of a legal conflict. In a university setting, we need to be teachers, too."
Landlord-tenant disputes and alcohol offenses may be perennial issues for college students, but occasionally new legal matters arise. In 2007, when music recording industry companies began suing students en masse for alleged illegal file sharing, LSS took the initiative. Schiflett said, "We worked with the RIAA (Recording Industry Association of America), and invited them to attend our regional conference as a presenter to hear their side of the story and also to hear what could be done to help solve the problem prior to litigation." In the process nearly twenty-five campus legal services offices from around the western United States learned more about how to handle cases in which students were charged with illegal file sharing and how to develop educational programs to prevent other students from breaking the law.
The result was a comprehensive strategy. Vice President for Student Affairs Dr. Juan C. González sent a letter to the student body warning about the legal risks of illegal downloads in the fall semester of 2008. Under the direction of Senior Associate Vice President and Dean of Students Dr. Soncia Reagins-Lilly, the Office of the Dean of Students (DoS) created enhanced programs and outreach efforts. For example, when DoS receives notification from Information Technology Services (ITS) that a student has engaged in illegal downloading, DoS sends the student a 13-question training module about illegal file sharing. The Daily Texan also published several articles about illegal file sharing to help raise awareness about the issue.
In the end, the endeavor paid off. "The violations through the fall semester were down over 55 percent from the previous year," said Schiflett. "Other universities, in many cases, don't have a strategic plan to deal with this situation, but our plan was prepared and implemented. We distributed it to all of the association members, and we have several emails from other schools requesting a copy of the plan. All of those are initiatives that our office undertook that go above and beyond just being good lawyers."
Legal Services for Students at The University of Texas at Austin won an award for efforts related to the RIAA cases. The University Student Legal Services Association-Western Region presented LSS with the Most Outstanding Student Legal Services Office award for 2008. Over the years LSS staff members have won similar accolades, including a prestigious national award in 2006. Mark Karon, president of the Student Legal Services Association section of the National Legal Aid Defenders Association (NLADA) said, "We choose one individual each year to receive the Elizabeth Berg Streeter Community Service award. The award recognizes an individual for service to the legal community, social justice and equality. Raymond Schiflett received the award in 2006."
LSS staff members also serve in leadership positions in the University Student Legal Services Association-Western Region. Raymond Schiflett has served four terms as president. "We've been around for fifteen years as an association, and are now grooming the next generation of attorneys for leadership roles. It's really exciting to watch it happen," said Schiflett.
The overall success of LSS may be due in part to the size of the office, allowing each attorney to focus on different areas of the law and to collaborate as a team. "This is a full-service law firm for a city of 50,000," said Butler. "Raymond is knowledgeable in employment law. I do civil litigation, bankruptcy and real estate. Sylvia Holmes handles the criminal issues. Having three attorneys with unique backgrounds combined with a great support staff and excellent law clerks enhances our ability to serve our large and diverse student body."
Through their dedication to student clients and leadership in the greater community, Legal Services for Students continually strives to raise the bar.
For more information on Legal Services for Students, please visit http://deanofstudents.utexas.edu/lss/index.php