Jason Sick: A Different Kind of Programmer
By Laura Ohata
Photo by Jay B. Sauceda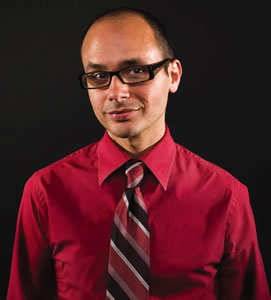 Jason Sick was stuck in a job he didn't enjoy. A salesman of legal document services, he dreamed of working in student affairs but knew he would have to earn a master's degree first. Sick said that on one particularly stressful day he thought, "I need some sort of sign. I need a way to get onto the path that I really want to be on." Four days later, Hurricane Katrina hit New Orleans, flooding Sick's apartment and destroying most of his belongings. "As horrible as it was for many people and as much as was lost, it was really an opportunity for me to have a fresh start," he said.
Less than two years later, Sick earned his master's degree from The University of Southern Mississippi and immediately accepted a position in the Office of the Dean of Students (DoS) at The University of Texas at Austin. One of five student affairs professionals in New Student Services, Sick helps coordinate the official orientation programs that welcome nearly 11,000 incoming students every year.
Sick believes that his passion for student affairs was kindled during his undergraduate years. As a leader in student organizations and the Greek letter organization community, he had considerable experience in public speaking, event planning and marketing. Sick also managed to get some job experience. As an undergraduate, Sick performed the same duties as the students who work as orientation advisors at The University of Texas at Austin. "There was some sort of seed that was planted in me at that point that I really knew that I could thrive in that type of environment," said Sick. Today, he oversees the selection of 90 students who become orientation advisors, each of whom shepherds a small group of incoming students. They also serve as mentors and leaders to the new students. Soncia Reagins-Lilly, Senior Associate Vice President and Dean of Students said, "Well-organized orientation programs provide an opportunity for students to develop friendships, become familiar with the physical campus, understand expectations about academic integrity, develop respect for diversity of thought, and learn the traditions and values of The University of Texas at Austin. Students who fully engage in all that orientation has to offer have a jump-start on success at The University of Texas at Austin."
For eight weeks of every summer, New Student Services moves out of their offices in the Student Services Building, and into Jester Center. Home to 3,100 Longhorns during the academic year, Jester fills with incoming students as they go through orientation on a rotating basis. Additional students commute to campus for orientation as well. For first-year students, orientation is a three-and-a-half day event. Most students spend the night in the residence hall, where the orientation staff provides assistance, guidance and information.
In order to greet incoming students with a Texas-sized "Howdy", New Student Services hosts weekly barbecue dinners, provides time in the program schedule for placement tests in a variety of subjects, facilitates academic advising, and distributes its own magazine called Bevo Bulletin. In addition, the New Student Services staff presents a multiple programs about campus traditions, safety issues, and Jason Sick's specialty, diversity.
In February of 2009, Sick won the Showcase Award, for a program he presented on stereotypes at the National Orientation Directors Association (NODA) Region 4 Conference. Sick said that the presentation was entitled, "How Lasting Should First Impressions Be?" When the participants arrived, Sick showed them a series of photographs of different individuals and asked them to write down the first words that popped into their heads, or their first impressions of the people in the pictures. "For instance, one of the individuals was tattooed and making a face," said Sick. At the end of the activity, he collected the pieces of paper. Then, he showed the photographs a second time while reading the adjectives used to describe the subjects in the images. When Sick showed the picture of the tattooed person he read the submitted words, which included adjectives like mean, evil, rude, and punk. Then he revealed the identity of the man with the tattoos. "This person happened to be a minister who reaches out to people who have been shunned by Christian churches based on their appearance," said Sick. I also showed another photograph of a very handsome man in a suit with a great smile... and people were like, 'Handsome, nice...' You know, just wonderful words described him." The picture turned out to be a photo of Ted Bundy, the serial killer. Sick said that we all have internal stereotypes, but it's what we do with those stereotypes that makes a difference. "When we work with a diverse group of people, we have to be aware of what might be going on inside of our head, and how to keep it in check to not let it affect our jobs, or affect our lives even," said Sick.
Sick realized that his presentation was controversial, so when he won the award it caught him off-guard. "You know, stereotypes and related issues mean a lot to me. So, to be recognized for that made me feel good," said Sick. Cristi Biggs, Assistant Dean of Students said, "Jason is amazingly organized, motivated, and at the top of his game. He is a consummate professional and a perfectionist and it shows in his leadership and through the quality of programming that he supervises."
In addition to programs for students, Sick also makes presentations to the faculty and staff. In 2008, as a member of the Diversity Initiative Committee, a DoS-wide effort, Sick started presenting monthly programs called learning lunches. Topics covered have included racism, undocumented students, and how offensive stereotypes are reinforced in some Halloween costumes.
When asked where he got his enthusiasm for diversity issues, Sick said, "I come from a small town in Mississippi-and a wonderful town. But, like any small town in the south, it has its baggage. Luckily, there is a huge emphasis on diversity. I now have the opportunity to take what I have been so passionate about and use it as an educational tool." Sick also said that he never gets bored of his job in New Student Services.
When asked about his general philosophy on life, Sick said, "My mother always told me, 'You cannot please all of the people all of the time. So, as long as it's not hurting anyone or yourself, do what you want to do and do what makes you happy, regardless of what others think.' Growing up, if I wanted to do something and I thought that maybe I was going to get made fun of, I did it anyway. I've just always done what I wanted to do and I have a great life to show for it. And that is the best wisdom that I can tell anyone."