A Message from the Dean of Students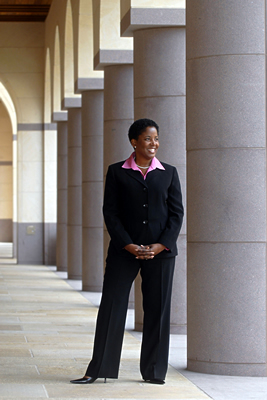 The University of Texas at Austin is a vibrant, diverse place offering countless intellectual, social, leadership and research opportunities. The Office of the Dean of Students (DoS) is here to help you navigate the complexities of campus, to serve as your advocate and to guide you to the many essential resources available to you at UT Austin.
Explore the DoS Web site or telephone 512-471-5017 for helpful information, such as who to call if you need help in a variety of situations. DoS staff can assist with any concerns or questions you may have.
One of our primary goals is to function as your personal UT Austin "search engine." Finding answers to your inquiries can begin with DoS.
As you settle in, I encourage you to customize your success:
We'd love to get to know you, so remember to take some time to visit our offices in the Student Services Building and the Student Activity Center.
Hook 'em!
Soncia Reagins-Lilly
Senior Associate Vice President for Student Affairs
Dean of Students
About the Dean
Dr. Soncia Reagins-Lilly earned a bachelor's degree in economics at The University of California at Irvine, a master's in education at California State University, San Bernardino, and a doctorate in education administration at the University of Southern California. She joined The University of Texas at Austin as senior associate vice president for student affairs and dean of students on April 17, 2006.
In her senior management role, Dr. Lilly collaborates with campus and student leadership to develop and implement policies related to campus life, as well as a full spectrum of student development and academic support programs. Her portfolio is comprised of the University Unions and the Office of the Dean of Students.
Prior to joining UT Austin, Dr. Lilly was assistant vice chancellor of student affairs administration at The University of California, Los Angeles, providing leadership and administrative direction through a comprehensive array of student services, student development programs, policy and fiscal administration, strategic planning, and university and public relations.